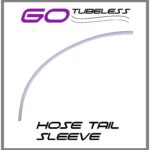 GO TUBELESS PROTECTIVE SLEEVE
£0.99
Compare
Description
BRANDNEW FROM EX-CEED INNOVATION (GO TUBELESS).
REPLACEMENT PROTECTIVE SLEEVE FOR SPLIT HOSE TAILS.
Constant bending of hose tails at the base of a water fed pole puts stress on hose tail sleeves.
This can lead to the protective sleeve splitting.
Easy to replace protective sleeve to help protect hose tails.